Reflecting on Egress Lighting for Commercial Property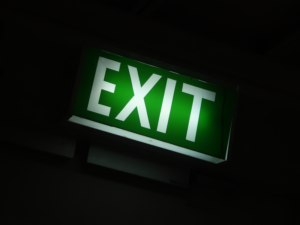 Three years before the collapse of the Champlain Towers South condominium complex near Miami, Florida, a consultant found alarming evidence of "major structural damage" to the concrete slab below the pool deck and "abundant" cracking and crumbling of the columns, beams and walls of the parking garage under the 13-story building (New York Times).
The consulting engineer's report helped spur plans for a multi-million-dollar repair project that was scheduled to begin more than two-and-a-half years after the building managers were warned. Tragically, the building suffered a catastrophic collapse in the middle of the night on June 24, 2021, crushing sleeping residents in a massive heap of debris.
Thorough, accurate engineering reports on building structures are vital. I believe that two other components of safety are equally important in commercial buildings: emergency lights and emergency egress lighting.
A Requirement, Not an Option
Emergency lighting is wired to a commercial building's power supply for continuous charging of internal batteries. The goal is to provide back-up power for the egress lighting and exit lights. Exit lights are always illuminated and a safe exit egress path is lit during a power outage, enabling occupants to easily locate the exits and evacuate the building. Emergency lighting in commercial buildings is required by the National Fire Protection Association (NFPA) and International Building Code (IBC). In fact, NFPA requires exit signs to be visible from no more than 100 feet or the listed viewing distance of the exit sign. NFPA also mandates these signs in all "egress paths," which are defined by specific criteria set forth in Section 1003 of the International Building Code.
As an electrical engineer, I advise lighting designers and architects to comply with these laws using aesthetic lighting that illuminates well and blends into a building's lighting design. Although there are many options available, I prefer a luminaire with emergency lighting built in. I can mix these in with the same non-emergency product. Every fourth light is an emergency battery light. An example design schedule would require four lights with batteries and eight "normal" lights without a battery for a total of 12. The emergency lighting is hidden in the design, but it is both functional and attractive.
According to Taylor Brummel in Facility magazine, while commercial building collapses are rare, power outages from fire-fanning winds in California are increasing significantly each year. Brummel elaborates that one survey found one in four U.S businesses reported losing power at least once a month.
Brummel further cites a National Climate Assessment warning that "extreme weather events are expected to increasingly disrupt our Nation's energy and transportation systems, threatening more frequent and longer-lasting power outages." Thunderstorms and wind gusts can threaten power lines and power grids, highlighting the importance of maintaining functional emergency lights and exit signs. Brummel further reports that "emergency lighting helps people to see clearly, avoid obstacles, locate equipment and move more safely throughout a building during a power outage."
Safety is paramount in electrical design plans. A principle that is well illustrated in the electrical design plans I recently created for a dining addition at a popular family restaurant, La Bella Café & Games. In the event of an emergency, patrons and employees need well-illuminated paths to safety. I selected LED Emergency 3000K, 839 Lumen CR190 6-inch down lights by Acuity/ Gotham. The normal part number is EVO 30/10 6AR WD LS CRI190. The emergency part number is AE EVO 30/10 6AR WD LS CRI190. The units look the same to patrons and employees in the restaurant, but function differently during a power outage.
A top priority: Illuminate an egress path for people to safety exit a building during a power failure.
Dining addition near completion at La Bella Café & Games. Grand opening scheduled for December 2021.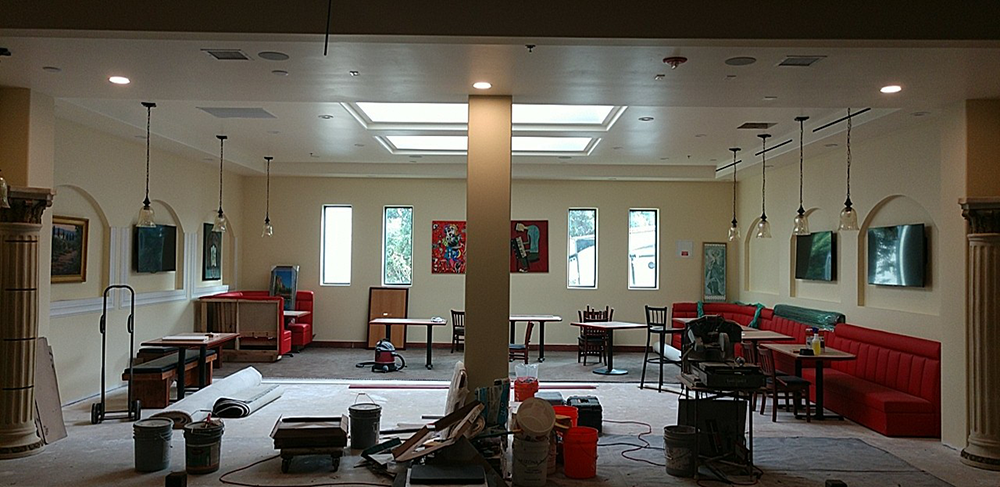 Preparing for addition, the open foundation on the back wall of the La Bella Cafe & Games.