Volunteering for Those Who Fought
Whitcraft Engineering Solutions joins ranks
I like to say I was recruited for one of the best military operations in San Diego, California.
With a mission to create safe and beautiful cottages for injured military veterans, this project had my name written all over it; at least that's what Sandy Lehmkuhler thought. She founded the Warrior Foundation Freedom Station in 2004 with a vision and clarion call for volunteers. I heard this call in 2016 when I was on site for a small electrical design project at the original WFFS campus on 28th St. in the Golden Hill neighborhood of San Diego.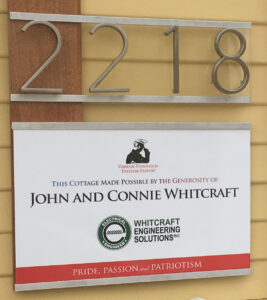 Fast forward to May 29, 2020, Warrior Foundation Freedom Station II was officially dedicated. Affectionately known as The Home of the Brave, this newly remodeled group of circa-1920 cottages supports the mission to help United States warriors successfully progress from military service to civilian life. One cottage was named for my wife, Connie, and me, with the official designation reading, "This cottage made possible by the generosity of John and Connie Whitcraft, Whitcraft Engineering Solutions Inc." The generosity refers to my electrical design volunteer work on Freedom Stations I and II.
It was an amazing and unexpected honor to have our names placed where veterans can heal and grow.
I have a special place in my heart for veterans. My dad Jay Whitcraft and brother-in-law Dennis Garber served in different wars, WWII and Vietnam, respectively, and with great pride. The Army Air Corps accepted my dad in 1946 where he eventually served at the Pentagon in the Office of the Chief of Staff for President Dwight D. Eisenhower. My brother-in-law was a Staff Sargent, U.S. Air Force from 1965 – 1969, working as a mechanic stateside and at Da Nang AFB, Vietnam.
In the early 1990's, I got to know several veterans and their stories while working at the Guam Cable Company, near Anderson AFB in Guam. Based on my conversations with them, including a Naval Petty Officer and Marine Corps Colonel: they would have welcomed such a Freedom Station. It could help those that seem so lost. Those were memorable days in Guam, including the birth of our son, Luke.
Electrical Design Work – The Details
It was comprehensive. I designed and negotiated the details of the electrical specifications, working with two architects and two general contractors on Freedom Station II. After measuring and taking notes on my initial site walk, I created an electrical sheet for site information, one sheet for power connections to each floor of the cottages, a single line (schematic) diagram, power load calculations, panel schedules, lighting layouts, power layouts for each cottage, Title 24 energy requirements documents, general notes and an SDG&E power service request form. The main issue was complying with the California Electrical Code, Title 24, the California Green energy codes, and then keeping equipment costs affordable. Fortunately, my decades of experience served me well on all counts.
Safety Codes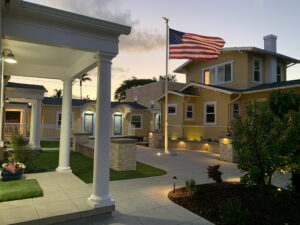 I am especially proud of advancing fire protection and electrical safety in these remodeled buildings—so essential in fire-prone Southern California. The California Electrical Code is based on the National Fire Protection Association document number 70. The electrical design is based on the latest California-approved requirements. Perhaps most critical of all, these century-old cottages are safe from electrical fire dangers and use low energy LED lighting.
Volunteering – I'm glad I was asked
I highly recommend such volunteer work to other construction design engineers and architects. Who doesn't want to be part of a team that changes lives? I talk about WFFS often, as I did in a recent article for Construction Monthly Magazine. Above all, I recognize and commend Sandy Lehmkuhler, the visionary founder and CEO of WFFS. Sandy and her team keep fighting for the warriors, offering veterans time and space to heal for a better transition to civilian life.
Below (clockwise from upper left): John and Connie, the arrival of their son Luke while living in Guam, Luke now enjoying water sports, Dennis Garber serving in Vietnam, and Jay Whitcraft's Pentagon photo.